By Spring Childcare · 23 Dec 2021
Let's Get Crafty This Christmas
It is officially the Christmas holidays so to make this time with your family even more special we thought we would share with you some of our favourite Christmas activities. Whether your child/children are babies or older we have something suitable for all the family.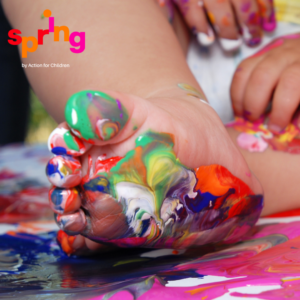 Make their first Christmas one you can remember forever with some hand and footprint art. Footprint reindeers or a handprint Christmas tree, you can even cut these out and hang them on the tree each year.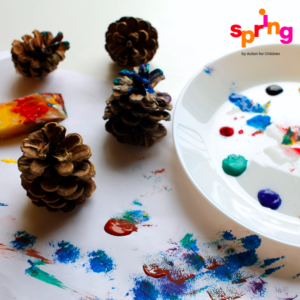 Why not go out on a nature walk with your little one and pick up some things you can paint and add to your tree. Acorns are great for these types of crafts as you can tie string to them easily and they will last years to come.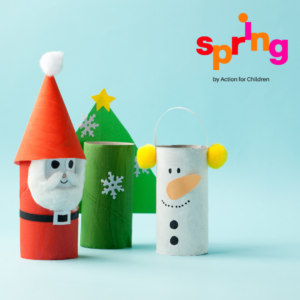 Save those toilet rolls and make some of these super cute ornaments. You could even add some string and hang them to your tree. 
Cardboard Christmas Trees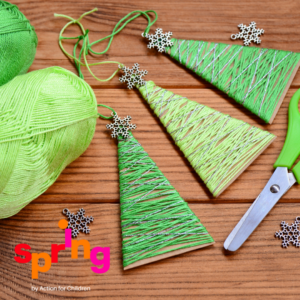 Cut out some triangular pieces of cardboard and wrap them in green wool, you could even stick some coloured sequence or cotton balls to the trees for added decorations.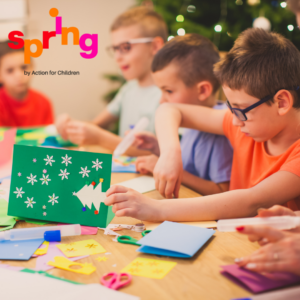 Buying Christmas cards for every friend and family member can be expensive, this year why not make your own. This is a great activity you can do as a family and why not use last year's cards (if you have them) to cut apart and decorate your new ones. If you have already sent all your cards this year, then why not make some for your neighbours?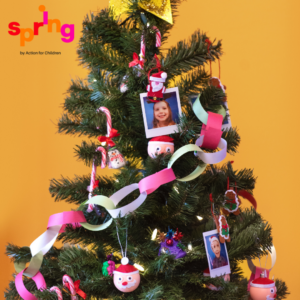 Ran out of tinsel? Looking for a little extra colour on your tree this year? Why not pick up some coloured paper and make this simple but affective paper chain decoration. 
Cardboard Gingerbread House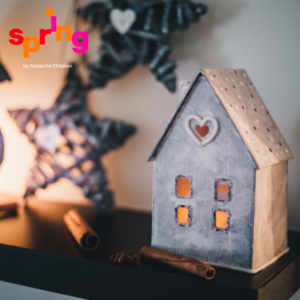 Instead of a traditional gingerbread house this year, why not make one out of cardboard that can be brought out each year…..and it saves all those sticky fingers.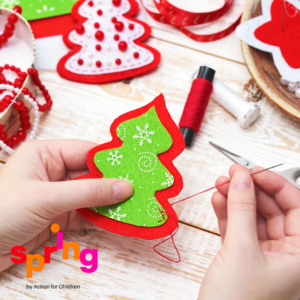 Looking for a Christmas craft idea for older children? Pick up some felt in assorted colours, cut out your desired shapes and sew them together, these are great decorations to give out as gifts. 
Christmas Gingerbread Cookies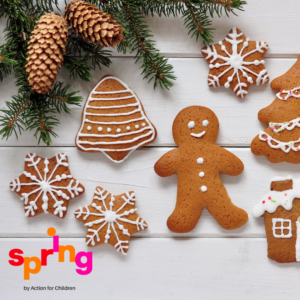 And lastly why not try out our gingerbread cookie recipe. They will be a massive hit on Christmas day.
Preparation time: 30 minutes   Cooking time: 15 minutes 
 Ingredients  
350g

/12oz plain flour, plus extra for rolling out 

 

1 tsp bicarbonate of soda 

 

2 tsp ground ginger 

 

1 tsp ground cinnamon 

 

125g/4½oz butter 

 

175g/6oz light soft brown sugar 

 

1 free-range egg 

 

4 tbsp golden syrup

 
Instructions
Sift together the flour, bicarbonate of soda, ginger and cinnamon and pour into the bowl of a food processor. Add the butter and blend until the mix looks like breadcrumbs. Stir in the sugar.

Lightly beat the egg and golden syrup together, add to the food processor and pulse until the mixture clumps together. Tip the dough out, knead briefly until smooth, wrap in clingfilm and leave to chill in the fridge for 15 minutes.
Preheat the oven to 180C/350F/Gas 4. Line two baking trays with greaseproof paper.

 

Roll the dough out to a 0.5cm/¼in thickness on a lightly floured surface. Using cutters, cut out the gingerbread men shapes and place them on the baking tray, leaving a gap between them. For decorations, use a skewer to make a small hole in the top of each biscuit.
Bake for 12-15 minutes, or until lightly golden-brown. Leave on the tray for 10 minutes and then move to a wire rack to finish cooling.
When cooled decorate with the writing icing and cake decorations.

 
We hope these activities help make your Christmas break extra special and you have a wonderful Christmas day when it comes.