At Spring Oscars, we form strong partnerships with parents to ensure they are a key part of their child's learning and development. We provide updates on our Famly app and always welcome parent comments and feedback. We empower children to suggest their views and ideas within our settings, with staff involving children in the planning of any group activities.   Children are given the opportunity to lead activities, taking ownership of their setting.  Children thrive, develop and grow in confidence by taking on this responsibility.
Booking Process
Applications are reviewed with the following system:
Sibling applications are reviewed first (in the order they were received)
Changes to booking patterns for previously enrolled children (reviewed in the order emails are received)
Applications on the waitlist (reviewed in the order they were received)
New applications (reviewed in the order they were received)
With this in mind, we recommend that families submit applications earlier rather than later.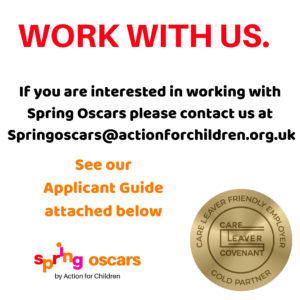 Action for Children is now officially a care leavers friendly employer- we have achieved gold partner status.